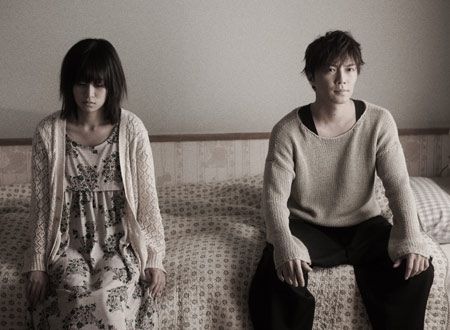 As paralyzing and hair-raising, as some expression of horror may be, those scares tend to diminish when faced with he passing of time. Many of the innovations that sprung out of Japan, be them original or just executed masterfully, and most strongly associated with films like Ring by directed by Hideo Nakata and Takashi Shimizu's Ju-on, are not likely to have the same effects on viewers who took in those earlier films, aghast, when seeing the same tricks employed again. So, it stands to reason the long haired emaciated figures of death, weird guttural sounds, and doors creaking open and shut that occasionally phase into being in THE COMPLEX (also by Hideo Nakata) bring few true feelings of fright. In fact, throughout a large part of its first act, it seems intent on delivering only a vague sense of creepiness.
It almost feels like the film's hand is being revealed too fast. Asuka, about to begin studying at a nursing school, who with her family has just moved into the old and rundown apartment building bearing the movie's Japanese title (Kuroyuri Danchi), befriends a little boy who plays alone way too late at night. It feels like a clear giveaway that she has some communion with spirits of the no longer living.
And at the same time, the dread induced by a spindly, lurking, and seemingly corporeal next-door neighbor also seems to be coming to an anticlimactic head too soon.
Yet, there are little signs that things are amiss. The only kind of affective scares are mixed in with offbeat, even slightly humorous touches, like the alarm that keeps waking Asuka up or the repetitious, déjà vu inducing conversations of her parents. The arrival of a cleaner, whose job it is to clear out and purify the dilapidated dwellings of deceased individuals who went unnoticed, and the bond he forges with Asuka is the first strong suggestion that THE COMPLEX will take seemingly conventional horror into some unique and intriguing places. Altogether worth the somewhat lumbering start to get there.
As Asuka's afflictions of terror persist and take on a more inward quality, the film delves into issues of loneliness, grief, and guilt…manifestations of horror that are far more real and for that, perhaps far more relatable to audience members that feel something akin to what Asuka is going through. It ends up evoking far more of an emotional response than the horror genre is wont to do. And in a time where cases of depression and discussions of mental health seem to be on the rise, it is admirable to see such issues dealt with head on.
So too is the challenge it poses to longstanding concepts of the nature of hauntings and the supernatural. Rather than focusing mainly on the unresolved feelings of the supernatural beings in question, it draws its horror in large part from the mental state of those being haunted, and typical symptoms of terror manifest in surprising ways, bearing resemblance to addiction, obsessive…behaviors that are not out of line with psychological disorders.
Instead of choosing one road or the other, the phenomenon is expressed as a strange flirtation between the presence of entities from the spirit realm and the victims' psychological state. As there are few hard and fast rules that apply to genres dealing with the supernatural (as there are with say, zombies) there is a lot of flexibility in the proceedings, which can be frustrating if trying to pin a logic on the movie's critical confrontations. Or it can be dizzying fun if you're willing to just enjoy the ride. It involves an enraptured, blood splattered séance and a tug-of-war between realms that reaches a frenzied, clawing conclusion with confinement to a complete and utter isolation at stake. It is unexpectedly, breathtakingly terrifying, and the true finale to the film, although the flame filled sequence that follows is so vibrant in its excess, it is fun to take in all the same.
THE COMPLEX is nothing if not bold for its incorporation of real life issue horrors – it joins several other Japanese films in dealing with themes of loneliness – into a backdrop of traditional scares. Atsuko Maeda (of AKB48 fame) and Hiroki Narimiya inject a sense of sincerity into their characters that make their struggle seem that much more urgent.
THE COMPLEX plays the Fantasia Film Festival on July 26 at 4:45 PM. Visit the
site
for details.